Steven Landman, D.D.S.
Dr. Landman graduated from Case Western Reserve University School of Dentistry in 1992 as a Doctor of Dental Surgery. He started his practice in 1994 in Ellington after searching for an area that would align his vision of a family practice with a friendly atmosphere.
Dr. Landman is a member of the American Dental Association, the Connecticut State Dental Association and the Tolland County Dental Society. To provide the most contemporary and knowledgeable dental care, he pursues continuing education classes in all aspects of dentistry.
Dr. Landman is known for his attention to detail and for always going that extra mile for his patients. He has an excellent relationship with wonderful specialists in our area that he refers to and consults with. With a conservative approach he will provide the best comprehensive care for your dental needs.
Ellington Dental and Dr. Landman proudly support patients in various community endevours.
By following Dr. Landman's lead, the office is able to have an excellent rapport and enjoy our work day. Dr. Landman is a native New Yorker and so there is only one rule: Never mention the New England Patriots or Boston Red Sox.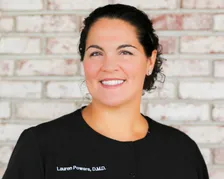 Lauren Powers, D.M.D.
Dr. Lauren Powers graduated from the University of Connecticut School of Dental Medicine in 2008. While enrolled at UConn she received the Alumni Scholarship and was a local board member of the American Student Dental Association. After UConn, Dr. Powers completed an Advanced Education in General Dentistry at the Providence VA Hospital.
Dr. Powers began working at Ellington Dental in 2011. She is an active member of the American Dental Association, the Connecticut State Dental Association, and the Tolland County Dental Society. In addition to keeping current in all of the latest advances in General Dentistry by taking many continuing education classes, Dr. Powers is also a certified Invisalign provider. On the days she isn't treating patients in Ellington, she works for a non-profit organization that provides dental care right on location to the children of the East Hartford School System.
Dr. Powers brings compassion and integrity to her dentistry and prides herself on being patient, kind, and thorough to patients of all ages. Originally from Southern New Jersey, Dr. Powers is an avid Philadelphia Sports fan and loves vacationing at the Jersey Shore in the summer. Although she has lived here for over 10 years, Dr. Powers loves exploring and enjoying Connecticut on the weekends with her family.
Jennifer Churchill, R.D.H.
Jennifer started in the dental field as a dental assistant in 1991. Encouraged to further her career by hygienists she worked with, she entered the dental hygiene program at Springfield Technical Community College. She graduated in 1999.
Jennifer started with our practice in 2008 after moving to the area with her husband, Rich. She brings a personal approach to each of her patients. Her passion for their care shows daily and her commitment to tailoring each visit for their optimum dental health is a key factor in our office.
Doris Jones, R.D.H.
Doris graduated in 1999 from Tunxis Community College with a Dental Assisting Certificate. After working in the dental field for several years she pursued a career as a hygienist. She graduated in 2003 from Tunxis and has worked exclusively as a hygienist since.
Doris joined Ellington Dental in 2008. With a military background, Doris always has the motto "No man left behind" governing her approach to friends, staff and patients. She will provide you with an educated, caring experience and is devoted to encouraging her patients to achieve excellent dental health.
Kathy Hornish, CDA
Kathy attended Tunxis Community Technical College and received her Dental Assisting Certificate in 1993. She worked in a periodontal practice for 15 years and joined Ellington Dental in 2010.
You will find Kathy's smiling face assisting the doctors and at our front desk helping patients with all their appointment needs.
Kathy brings dedication and appreciation to her job and enjoys interacting with patients and helping them to be comfortable and informed.
Chan Keokoummane, DA
Chan has been in the dental field since 1987. She has been part of Ellington Dental assisting our team since 2007. Her background in orthodontic dentistry is an asset to our office.
Chan is a friendly face and a great listener which helps to ensure that your visit is an excellent experience.
Katrina Sander, Office Manager
Katrina has been with Ellington Dental since 2005. She had previously been in the dental field for five years giving her a well-rounded understanding of clinical and non-clinical issues.
It is her goal that all patients have an experience that is friendly, educational and relaxed. Trina is always ready to answer any of your questions and resolve any concerns.
Patricia Doyle
Sandra Litwin